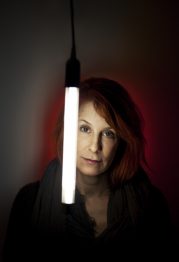 I am a visual storyteller: on screen, television and the stage.
I started out with canvas and color, painting large expressionist figurative works, seeking to capture emotional states in the human body. Soon however, I found the medium too confining and turned to film. My urge to explore human behavior in visual manifestations found home.
As of 2020, I have made five dramatic feature films for theatrical release, more than twenty hours of TV series and crime episodicals, short films and commercials. I have staged a major musical play and written a book about filmmaking.
Characters always fascinate me. Often, in feature work, I find my antiheroes in the midst of a crisis, be it the wounded soldier returning home, the recent widower, the housewife left by her husband, the stripper losing her mother, the alcoholic facing his last days on earth. I search for stories that bring us closer to who we really are when we meet our selves and who we want to be. Some films have been based on short stories or novels. Other have been original screenplays from screenwriters or penned by me.
I love stories that will take you from smiles to tears and back again. I love a good laugh in the midst of a tragedy. I love working with actors, searching for the complexity of humanity. I like endings that give us hope, but detest endings that wrap things too neatly together.
Lately I have been working with crime. At the end of 2020 I will have directed twelve 45-minute Swedish crime episodes, from the stylish "Stockholm Requiem" to the long running queen and king of Swedish crime, "Maria Wern" (produced by Warner Bros. Sweden), and "Beck", (produced by Filmlance International), all for the main Swedish broadcaster TV4 and pay TV C-more Entertainment.
In 2017, I summed up my reflections and experiences of 25 years in the film business, in my book called "The Ravine – so you want to be a director?" The book is now used as part of the educational programs at the Swedish Film School. English translation available on request.
My latest feature film, the love story "Walk With Me", had theatrical release in Denmark in March 2016. It is based in part on a true story, and tells of a Danish soldier returning home as a double amputee. In his frustrated efforts to walk again, he meets a ballet dancer who helps him. Produced by Oscar-winning producer Per Holst (Pelle The Conqueror), it stars Denmark's leading young actor, Mikkel Boe Følsgaard, and a former ballet dancer, Cecilie Lassen, in her debut role. It was nominated for the Audience Price as well as for best actor and actress at the "Danish Oscars", the Robert Award. It was also on the Danish short list for the Oscar.
In the years 2010 to 2013, I switched between film, stage and television. My feature film "Simon and The Oaks" was Sweden's fourth largest film ever, with a budget of €6,3 million. Based on a popular book, it was a box office success, receiving the Gothenburg Film Festival Audience Prize, thirteen Swedish "Guldbagge" nominations, including best film and direction, and had theatrical releases in several European countries as well as in the US to great reviews.
Next, I devoted myself to staging the Tony and Pulitzer Prize-winning Broadway hit musical "Next to Normal" at Stockholm's Stadsteater in Sweden. This wonderful and complex story about a troubled family, including a mother with bipolar disorder, opened in September 2012 to great reviews and sold-out box offices.
Finally, I was asked to round-out the popular Wallander series, with my long time friend Krister Henriksson as the aging criminal inspector Wallander. The very last episode, "Wallander: The Sad Bird", was released in Sweden in October 2013, on BBC4 in May 2014, and in the US in October 2014.
Between 2007 and 2010, I had the honor of being appointed as the Feature Film Commissioner for the Swedish Film Institute, selecting the projects that would receive state-funding for script development and production financing. It was a challenging and educational time, giving me the opportunity to read more than 500 scripts and closely follow films from idea to full financing and completion.
In 2006, my family drama, "Sex, Hopp och Kärlek"/"Sex, Hope and Love" was released. It explored mother-daughter relations in a dysfunctional family. The film was awarded "The innovation Award" for direction, at the Montreal World Film Festival 2005, and Krister Henrikson won his second "Guldbagge" for best male actor.
In 2005, my dark comedy, "Kvalster/Mites" aired on national TV. It was a hugely popular four hour miniseries about a stripper and a housewife who decide to open a cleaning business together!
In 2003 I made the romantic comedy, "Tillfällig fru sökes/Seeking temporary wife" about a single man who desperately wants a child and a female adoption agent who desperately doesn't want one. Seeking Temporary Wife received an award at the Italian International Festival delle Donne in 2004 for best film and best Male actor performance.
In 1998 my first feature was released, "Veranda för en Tenor"/Waiting for the Tenor", to great reviews. The film was nominated for 7 "Guldbaggar" (Swedish Oscar), and my lead actor Krister Henrikson won his first Guldbagge för best male actor.
In 1996 I did my first miniseries "Nattens barn" (Children of the Night), the story of growing up as an outsider in the 1970's. Two girls search for occult powers to assist them in acquiring power and status. It was ranked as best TV-film of the year by the Swedish Magazine "Nöjesguiden".
Flaming Film AB is my production company where I develop scripts for film and theater.