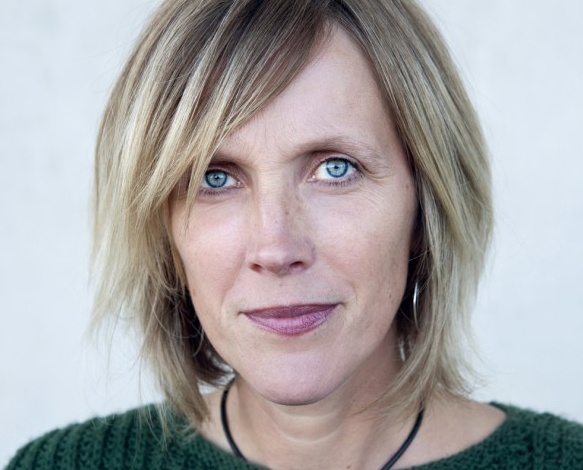 Idag vill jag bara prata om Tove. Kära Tove Torbiörnsson, som jag vet att många av er känner, somnade stilla in igår kväll efter en tids sjukdom. Det är orättvist. Ofattbart. Orimligt.
Första gången jag såg dig, Tove, var när du gick på DI. Ung, stark och med två små döttrar visade du redan då att det inte fanns någon som kunde tala om för dig vad en kvinna kan eller inte kan. Jag beundrade dig. När jag fick se din fantastiska dokumentärfilm "Hitta Hem" beundrade jag dig ännu mer.
Så blev vi kollegor på SFI och jag fick lära känna dig. Nu var du en fyrabarnsmamma som valt att stötta andra dokumentärfilmare. Du var enastående. Med kunskap, insikt och ett självklart genusperspektiv var samtalen med dig alltid spännande och oväntade. Du såg saker som inte alla  såg. Du såg orättvisor, ojämlikheter. Du såg till att göra skillnad – till exempel när du krävde att den besprutade frukten skulle bort och genusutbildning skulle in.  Du såg och la fram dokumentärfilmens storhet före många andra. Och du såg Människan. Det var det som gjorde dig så fantastiskt bra både som filmare och som konsulent, när du stöttade människor i deras konstnärliga strävan. Du gav tillit och tid till alla som kom din väg.
Det var ett dilemma. I det som skulle bli vårt sista långa möte, pratade vi just om det. Att välja mellan glädjen att stötta andra och längtan efter att skapa själv. Varför inte göra både och? Kom vi fram till. Vi hade ju tiden framför oss.
Du trodde så på Mötet. Och satte ihop oss, 15 kvinnliga regissörer i det som skulle kallas Moviement. För att lära oss att stötta varandra och leda. För att lära oss att se och vara modiga. Och vi växte. Oj vad vi växte.
Jag älskade våra samtal. Vi skulle göra så mycket! Vi skulle mötas mer, prata mer skapa saker tillsammans! Förändra mer! Men tiden lurade oss. Det var alltid ett sen. När filmen blev klar när festivalen tog slut när vi befann oss i samma land. Och sen tog tiden plötsligt slut.
Utan dig, Tove, hade jag inte startat denna blogg. Utan dig hade jag inte haft den röst jag har idag.
Jag tänker på dina barn. På din man, på din familj och närmaste.  Och jag kommer alltid fortsätta prata med dig Tove, fortsätta våga ha min röst och hoppas att du hör mig där du är nu.
Do not stand at my grave and forever weep.
I am not there; I do not sleep.
I am a thousand winds that blow.
I am the diamond glints on snow.
I am the sunlight on ripened grain.
I am the gentle autumn's rain.
When you awaken in the morning's hush
I am the swift uplifting rush
Of quiet birds in circled flight.
I am the soft stars that shine at night.
Do not stand at my grave and forever cry.
I am not there. I did not die.
                                                   Mary Fyre