Min nya långfilm "De Standhaftige" eller "Walk with me" är äntligen klar.!!! Yeayyyyy! Eller – mitt jobb, alla kreativa beslut,  är klart – en massa tekniskt ska till nu. Tomhet. trötthet, glädje, rädsla i en skönjobbig mix. Jag åker på  minisemester till min älskling Dan som filmar en actionfilm i New York.
För en vecka sedan släppte New York Times en artikel: "The Women of Hollywood Speak Out", med 60 starka kvinnor på omslaget.http://www.nytimes.com/2015/11/22/magazine/the-women-of-hollywood-speak-out.html?_r=0.  Det är både jäätte jääättedeprimerande läsning – och fantastiskt att vi äntligen vågar prata om det faktum att villkoren är så olika för män och kvinnor i denna bransch, både bakom och framför kameran. Självklart är villkoren lite olika därborta – men samtidigt inte. För normen är en man som regissör. Som en kvinna säger:
''I think there's a fear that females can only tell female stories, like if they're given free rein, they'll just write stories where everyone's braiding each other's hair and crying,'' said Elbaum, 38. The soft-spoken Piven said: ''I feel that there is something going on underneath all of this which is the idea that women aren't quite as interesting as men. That men have heroic lives, do heroic things, are these kind of warriors in the world, and that women have a certain set of rooms that they have to operate in.''
På planet över till New York ser min granne på "Jurassic World"  en $150 millioners film gjord av en ung man i baseballkeps som bara hade gjort en film förut (som artikeln nämner – när hände det en kvinna?). Min granne har hörlurar, jag tittar över axeln, stumt. Det är roligt. En man och en kvinna blir jagade av dinosaurier genom djungeln.  Mannen är klädd i för uppgiften mycket lämpliga kläder, typ safariutrustning, med gevär och kniv. Den stackars kvinnan är klädd i en vit kjoldräkt och höga klackar. Inga vapen. Såklart. Hon har ju en man. Dom springer mycket och slänger sig på marken. Han blir svettig och smutsig. Det blir inte hon konstigt nog. Han har mycket dialog och pekar än hit och dit och ibland skjuter han. Hon växlar mellan att se förvånad, rädd och förvirrad ut – typ nu vet jag inte hur jag ska se ut för min stackars karaktär vill ju ingenting alls – och sen springer hon efter mannen. Jag tänker på hennes fotblåsor. Sen somnar jag.
I New York skyndar jag míg ner till min älskling som jobbar sista långa dagen innan han får semester 4 dagar över Thanksgiving. Han är fotograf på "John Wick 2" där Keanu Reeves pangpangar sig genom livet.
Det är alltid lika konstigt att besöka andra människors filmer. En inspelning är som en levande organism där varje människa har en exakt  funktion och alla är medvetna om varandras bidrag till helheten.  Tidspressen är alltid på max. På ens egen inspelning är en akut medveten om var bollen ligger, var den svagaste länken är, vem som kommer få problem och vem som kommer lösa dem. Men, kommer en in utifrån på någon annans inspelning ser det alltid bara ut som en massa människor som hänger och gör ingenting och sen springer iväg lite. Jag smyger runt. Hälsar. Tar mig en kopp kaffe men det är inte lätt för det finns 10 olika sorters kaffe att välja på. Och 15 olika sorters frukt och fem varmrätter.  Och kaffet är lika äckligt som amerikanskt kaffe brukar vara och ja jag vet att ni undrar, Keanu Reeves är jättesnygg och jättetrevlig fast han har blod över hela ansiktet. Det är en rätt liten scen i sig men John Wick har en hund så jag hänger på hundtränaren som har tre likadana hundar som han byter mellan och jag blir hemligt lite nöjd när jag ser att hans hundar inte alls lyder hela tiden, då är det inte så illa med min lilla Simba, och  sen blir jag satt i fin stol med hörlurar och slår mig till ro; kommer sakta in i just den här inspelningens rytm, organism. Och blickar ut över ett hav av män. Vita män i baseballkepsar.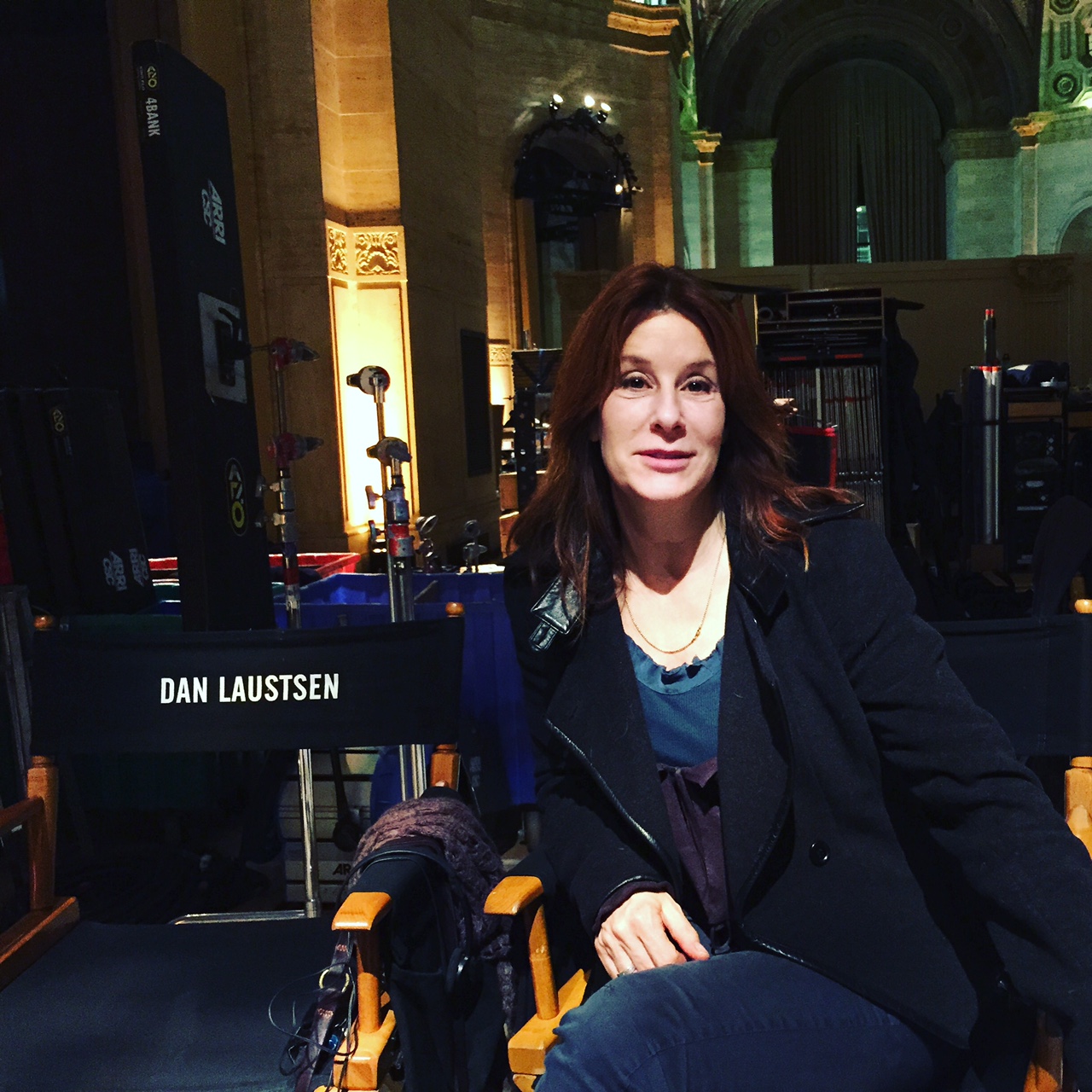 På natten blir vi  jättesjuka, Dan och jag. Inte vet jag hur det går till men vi vaknar båda med över 38 graders feber och influensa. I feberyra bläddrar jag planlöst genom alla kanalerna på TV-  en kvinna lagar mat till sin man som kommer hem snart på deras 25 års jubileum och lovar mig glatt att "He is really gonna love you for this". En annan kvinna är 25 år och vill åka till en man i Autralien som är dubbelt så gammal och har fem barn. Hennes mamma tycker det är en jättebra idé. Sen hamnar jag i en underbar New York Times intervju med den fantastiska komikern Kathy Griffin. Det är massor om hennes karriär och hon är jätterolig och säger allt som ingen vågar och så kommer de in på att det finns så få kvinnliga komiker. som får stå på standup scenerna och ännu färre som får göra de stora grejerna.  Ja det finns Amy Schumer och Amy Poelher och Tina Fey – men sen? Vi har ju haft samma diskussion i Sverige. Och plötsligt orkar inte ens hon vara rolig utan bara säger "Its 2015. Why are we still having this conversation?"